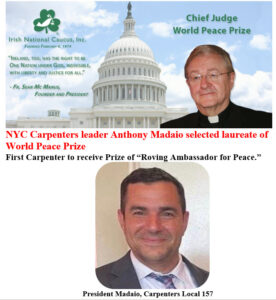 Capitol Hill. June 9, 2022.   Italian American Anthony Madaio, 41-year-old President of Carpenters Local 157 (the largest Carpenters Local in the United States) will receive the Prize at the Presentation Ceremony on a weekday from 2:30 PM to 4:30 PM in Local 157's Headquarters, 395 Hudson Street, New York, NY 10014 — date to be announced later. His office will issue the invitations to this free event—not a fundraiser.
The announcement was made by Fr. Sean McManus, President of the Capitol Hill-based Irish National Caucus, and Irish Peace Foundation— and Chief Judge of the World Peace Prize, which is headquartered in Seoul, South Korea. The World Peace Prize was founded in 1989 by the late Presbyterian Minister, Rev. Dr. Han Min Su, and consists of a panel of International and Inter-Faith judges (representing all nine major world religious groups)."
Fr. Mc Manus said: "When we became involved with the World Peace Prize in 2013, we wanted to strongly make the point that working for peace in fact means working for justice all the time, day in day out, year after year. And what group in America better exemplifies this since the 1880s than the American Labor Movement? And the iconic Carpenters Union has been leading the way since 1881. And now the young, impressive President Madaio is leading the largest Carpenters Local in the United States—in solidarity, dedication, and with great ability.
The American Labor Movement/Organized Labor works for justice, equality, and solidarity for working women and men. Therefore, the Labor Movement and its leaders ought to be seen as very suitable potential candidates for the World Peace Prize. And Dr. Martin Luther King, Jr. and Saint Pope John Paul II remind us that peace is the fruit of justice and solidarity. (Please visit WorldPeacePrizeWashington.org for further information)."
Fr. McManus further explained: "We took our vision to the late, great, and beloved Richard L. Trumka, President, AFL-CIO. He loved the idea, and enthusiastically wanted to help us to launch it throughout the Labor Movement—symbolically doing so at his own Washington AFL-CIO Headquarters, by being the first Labor recipient of the World Peace Prize on February 3, 2016."
President Madaio said: "I am honored and humbled by being a laureate of the World Peace Prize, which I accept on behalf of the entire United Brotherhood of Carpenters. Like the late President Trumka, AFL-CIO, and Teamsters General President Sean O'Brien, I, too, greatly appreciate the World Peace Prize connecting American Organized Labor with peace—locally, nationally, and globally. It is also all the more meaningful to me since Fr. McManus was a good friend of our late General President Pat Campbell (1982-1988). I know Pat is smiling down on a Carpenter receiving the World Peace Prize. Solidarity forever."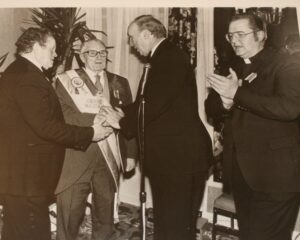 L-R: Patrick J. Campbell, General President, United Brotherhood of Carpenters. Teddy Gleason, President, International Longshoremen Association,1963-1987. (Grand Marshall of the St. Patrick's Day Parade in New York in 1984. The Irish National Caucus honored him in New York City after the Parade). Tom Donahue, Secretary-Treasurer, AFL-CIO (1979-1995) and President in 1995.
Fr. Sean McManus, President of the Irish National Caucus.